School News & Announcements
Subscribe to posts
What supplies will your child need for school in September?  The school will provide all children with the pencils, notebooks, art paper, etc that they will need throughout the year.  We also provide access to Chrome books and iPads, gym equipment and yard equipment, and of course, plenty of books. 
If you want to supplement the basic supplies provided by the school, feel free to consider providing the items listed below.
  Also, if you would like to donate a few additional items, these will be made available to children who might not come to school with any of the 'extras'.  
Supplies for Students in Kindergarten:
1 small blanket.  This should be labeled and be able to fit into an XL size Ziplock type bag.

1 pair of non-marking indoor running shoes for the gym.  Please, label shoes and NO LACES 

2 boxes of tissue (to be shared by all students in the classroom)

3 glue sticks or a bottle of white glue (e.g., Elmers glue)

1 box of any size of Ziploc freezer bags (to be shared by all students in the classroom)

1 pump bottle of hand sanitizer
Supplies for Students in Grade 1 to 6:
1 pair of non-marking indoor running shoes for the gym

2 boxes of tissue (to be shared by all students in the classroom)

1 pump bottle of hand sanitizer

1 box of large freezer Ziploc bags (to be shared by all students in the classroom)

1 soft, zip up, pencil case

1 pair of scissors  

4 large glue sticks 

Gr. 2 to 6 only: 1 box of pencil crayons or washable markers

Gr. 2 to 6 only: 1 plastic pencil sharpener with case to hold shavings 

Gr. 1 to 6 only: 1 pair of earphones, 

could be from the dollar store

  
Do you know someone who wants to make a difference in kids' lives?  Be a school bus driver!  OSTA's Operators are hiring now.  Visit 
ottawaschoolbus.ca
 for more information today.
* Great part-time job that's different and exciting
* Stay-at-home-parents, bring your little ones along
* Park-outs available
* Weekends and holidays off
* Ministry Bonus and other benefits
You can make a difference!
LBP Welcome BBQ: August 29th, 2018: 11:30 am to 1:30 pm.
June 8th is a PD Day.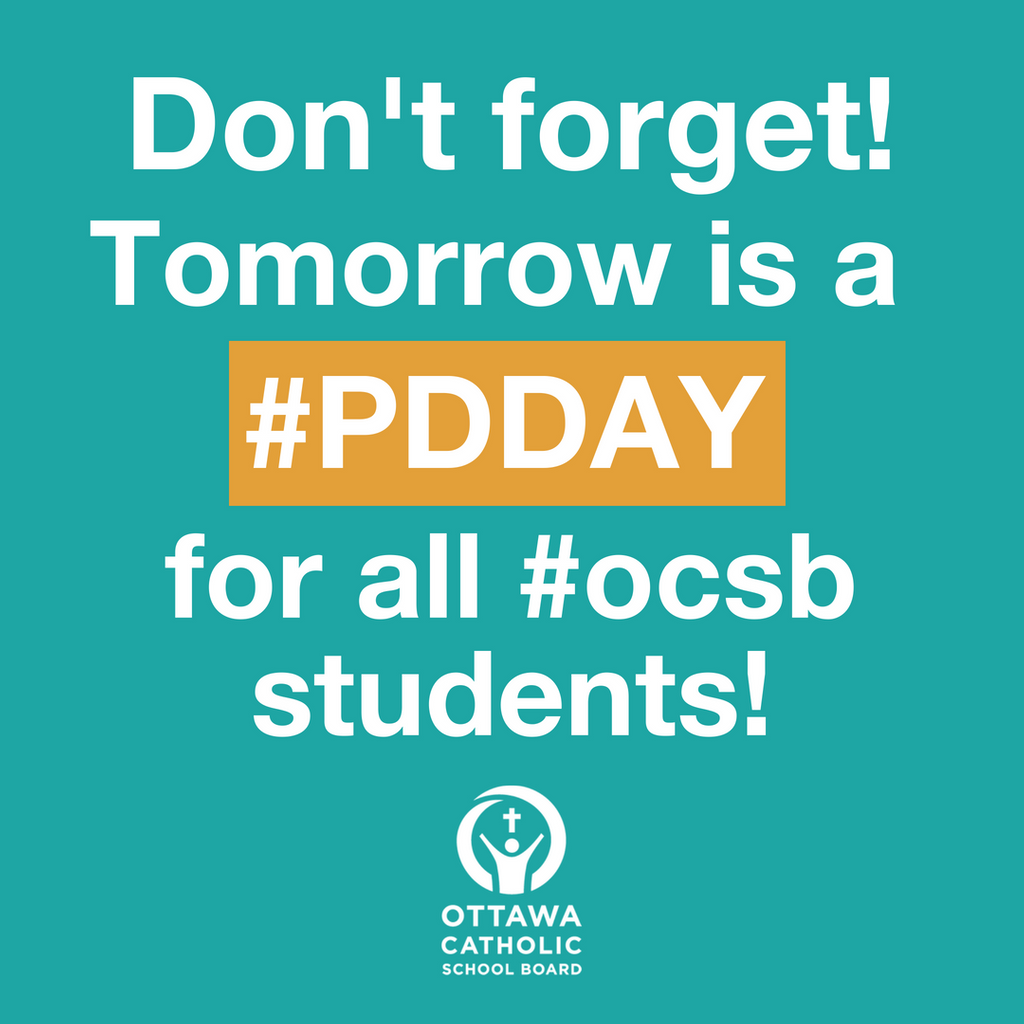 St. Brother André Fun Fair The Parent Council and The Staff of St. Brother André School would like to invite you to a Fun Fair on Fri. June 15th from 6:00 pm to 8:00 pm. The Fun Fair will take place in the school yard. There will be games, a large inflatable slide, a bouncy castle, a Cake Walk, a fish pond and face painting. As well there will be hot dogs, hamburgers, popcorn, chips, candy, drinks, etc. for sale.  We are looking for Volunteers to help out the day of the fun fair and parents to donate a cake for our cake walk. Please come and join us for an evening of fun and socializing. 
Dear parents/guardians
The Ottawa Catholic School Board will soon begin using a new communication platform called SchoolMessenger. It allows schools, teachers and the school board to send phone and email messages to parents using the contact information that parents have already shared with the school.
Our school will begin using SchoolMessenger next week, May 22-25.
What's new?
The difference between SchoolMessenger and our current platform is that SchoolMessenger allows parents to select their contact preferences (contact by phone, email, or both) for different types of messages.
What parents need to do
Phone messages
Parents can expect to receive one or more phone messages during the week. There should be no change from the way our phone messages are currently delivered. Please inform the school if you do not receive a phone message by the end of next week.
Email messages
Email messages will only be sent to those parents who have an email address on file at the school. The first email message sent using School Messenger will provide instructions on how to create a parent account and select your notification preferences. Please inform the school if  you do not receive an email message with this information by the end of next week.
If you have any questions or concerns about the new platform, please contact the school.
Friday, May 18th is a PD Day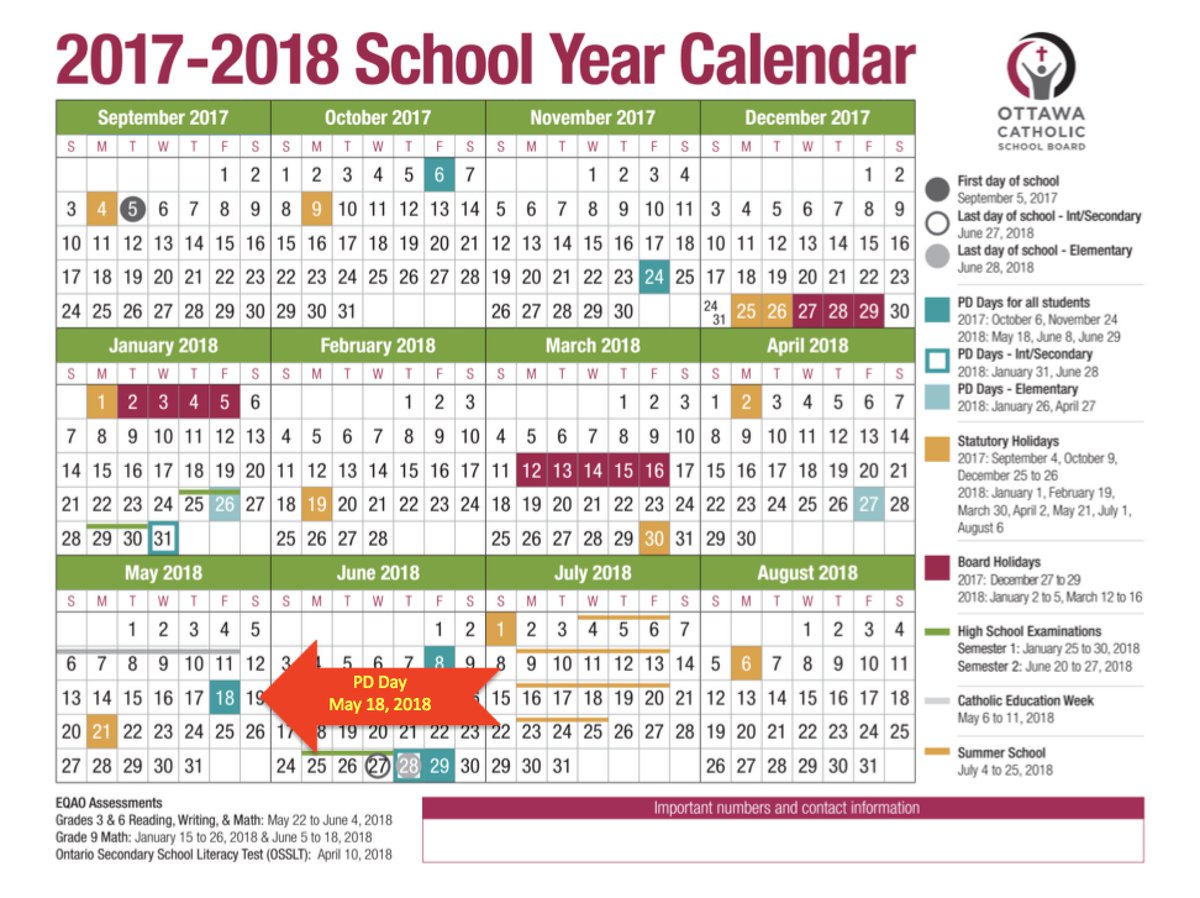 For the 7th year, Ottawa Public Health has partnered with sports retailers across Ottawa to bring residents a discount on helmets.  Helmets can help prevent serious brain and head injuries by absorbing the force from a fall or hit to the head.  Helmets are recommended for activities such as skateboarding, rollerblading, biking, sledding, skating, skiing and snowboarding.  In Ontario, it is mandatory for anyone under the age of 18 to wear a certified helmet while riding a bicycle (Highway Traffic Act:https://www.ontario.ca/laws/regulation/900610)
The Helmet Discount Weekend is Saturday May 5 and Sunday May 6, 2018
For a list of participating retailers, please visit the Ottawa Public Health website (http://www.ottawapublichealth.ca/en/public-health-services/helmet-discount-weekend.aspx.